Remarkable Skin Experience
Effective and gentle ingredients for your skin, through the power of plants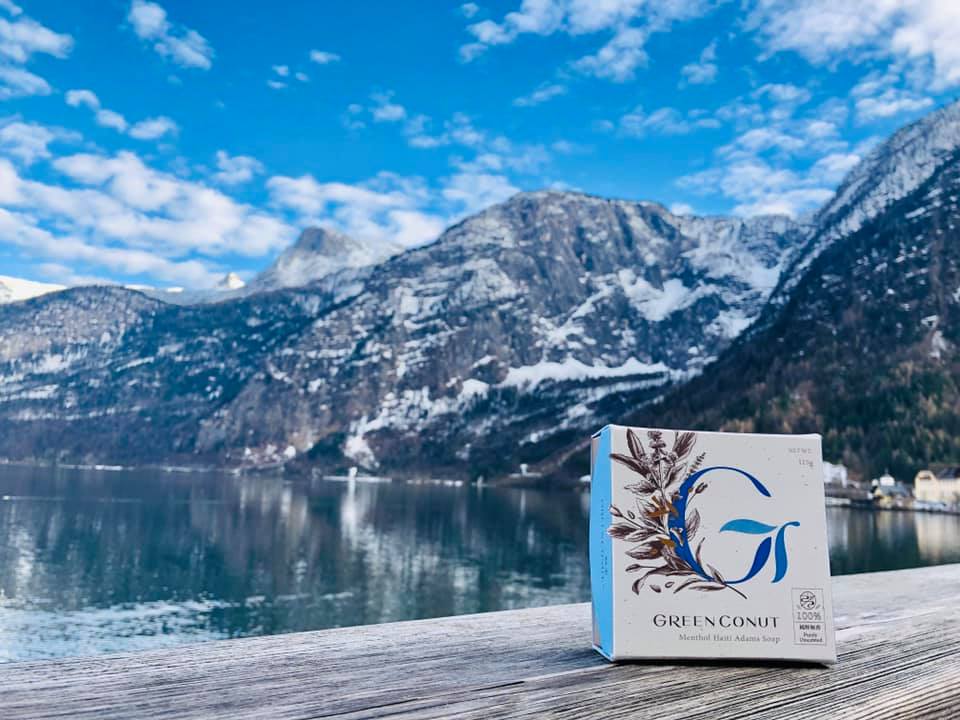 Inspiration from Nature
GreenConut constantly seek inspiration for innovation from plants and ingredients in nature, to create products that meet our standards for just the right ingredients and textures. GreenConut deeply understand that wild plants contain powerful energy. Our safe, environmentally-sustainable processes help each product fully manifest what makes the plants special. Always upholding safety and reliability, GreenConut develop the products that your skin needs.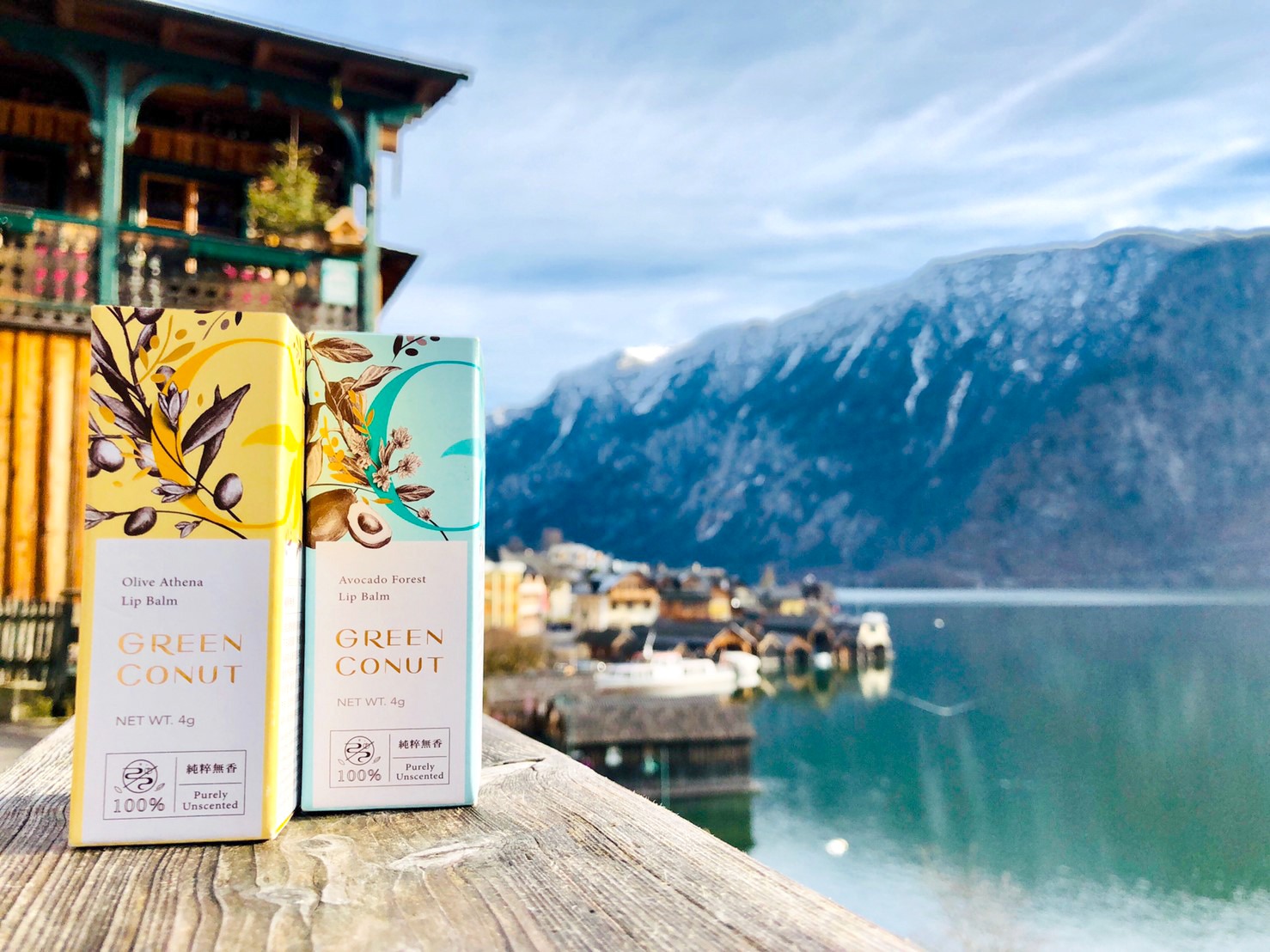 What makes GreenConut different
Skin safety is our only consideration; GreenConut never use ingredients that can cause sensitive skin, or even products that we are uncertain of. GreenConut make every effort to achieve the best product formulas. Even if it takes two years to perform development and stability testing, GreenConut won't compromise. GreenConut value how it feels every time you apply the products, and GreenConut promise never to abandon that principle.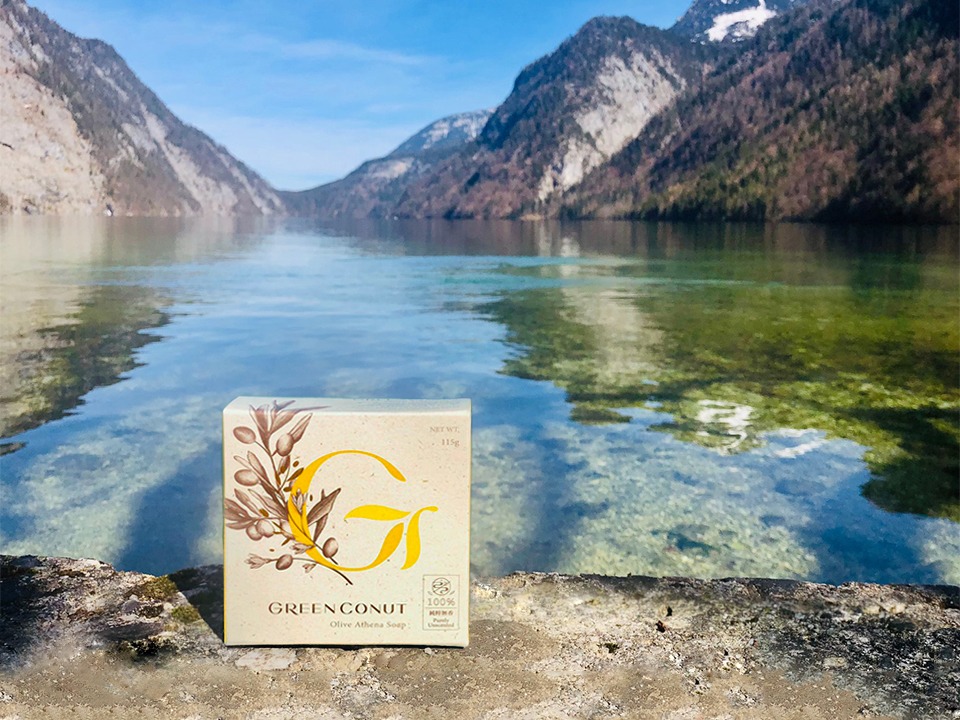 Attention to safety
We avoid adding ingredients that affect health or yare likely to cause skin sensitivities, so our formulas are free of alcohol, fragrances, parabens, and surfactants (SLS). We also add no scent-enhancing fragrances, nor do we mask the scents of theplants or other ingredients. We don't emphasize lovely scents. What we value is whether the ingredients are safe and effective.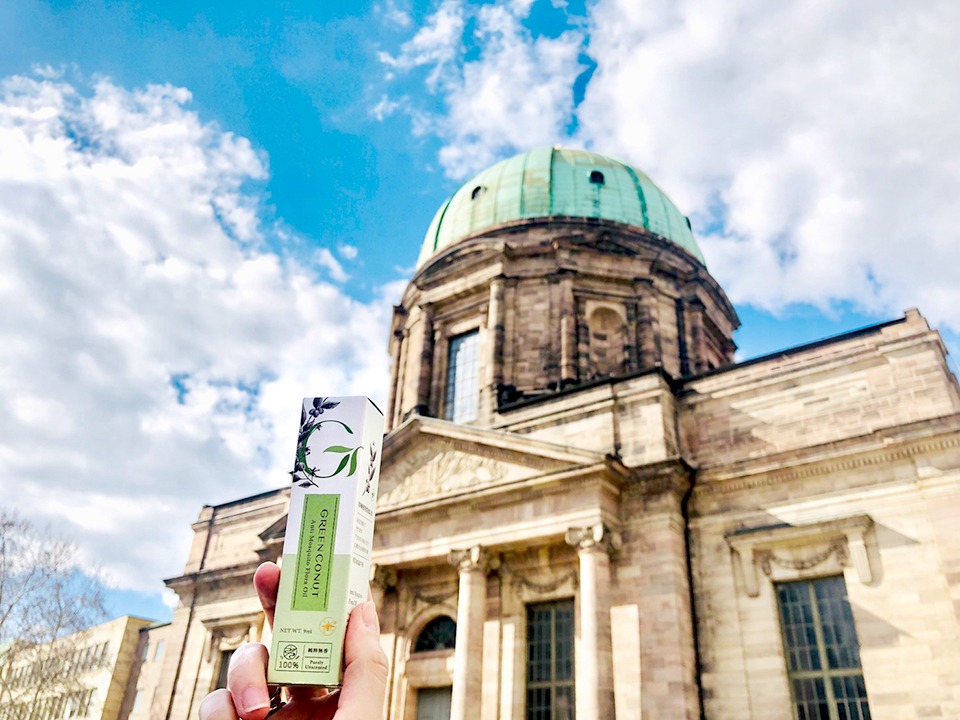 The infinite energy of plants
Plants grow in different places; each environment gives rise to different appearances and characteristics. We often find that plants contain amazing energy and vitality. By using pressing, extracting, distilling and other methods, we obtain the reparative energy and essence of each plant, bringing that nutrition and vitality to replenish your skin.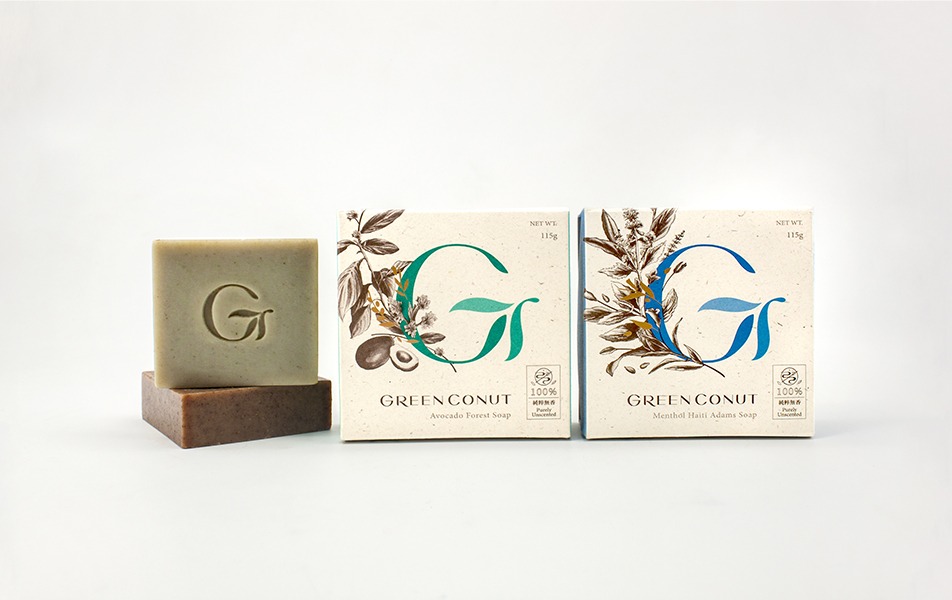 Soap Bar
Our handmade soap is cold-processed at temperatures that never exceed 45°C, so none of the vegetable oil characteristics are lost. When the cold-processed, hand-made soap is initially finishedy, the pH is higher than skin can withstand. That's why weplace the soap on a well-ventilated wooden stand to gradually dry. This step is called aging.
The aging usually takes about 30-45 days; but in GreenConut, we insist on extending this step to 90 days. The reason is that it takes a long time for the water to evaporate completely from the handmade soap. This means you can keep using thesoap as normal for a long time, without it getting mushy. During the handmade soap aging process, saponification continues. As time passes, the handmade soaps become rich in mild, moisturizing glycerin, so they give skin mild, deeply moisturizing. Our handmade soaps contain no essential oils or fragrances, but we offer many options for safe and effective cleansing with different skin needs.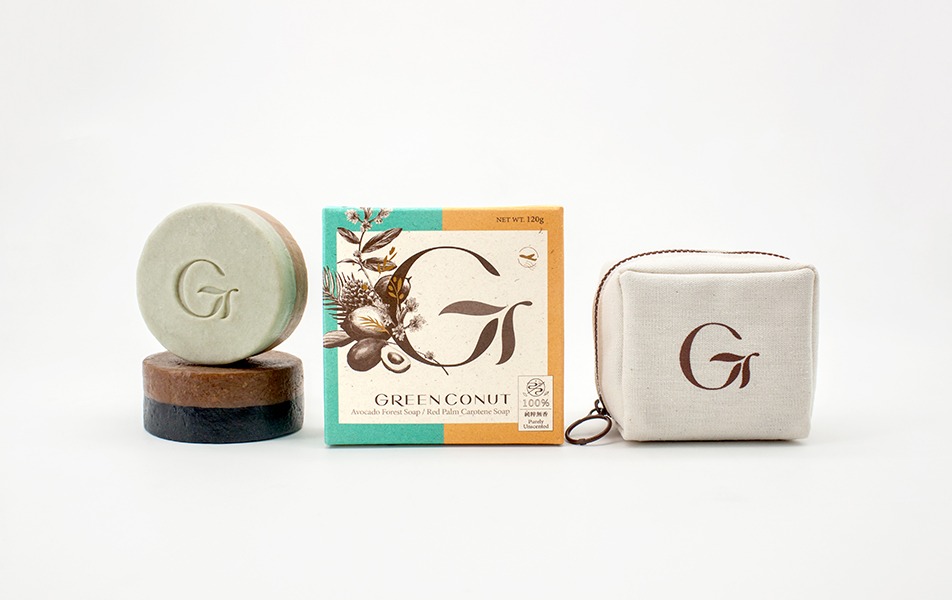 Travel
We know that you may want to bring your favorite GreenConut soap with you when you travel, but luggage space is limited. That's why we made our single-scented soap in a light travel size, and created round, easy-to-carry form factors for our three-month aged soap. We seamlessly combine two differently scented soap into one, and age it for one more month. Why? To extend usability and hardness, so you can put the soap right into the waterproof soap bag when you'retraveling or on business. The handmade soap fits into the waterproof soap bag at any size; whether freshly purchased or in use, the soap fits easily into the bag. Dense and water-resistant, the soap can go right into the bag, without drying. The soft fabric of the bag has an excellent feel,is easy to use, and is easy to packs.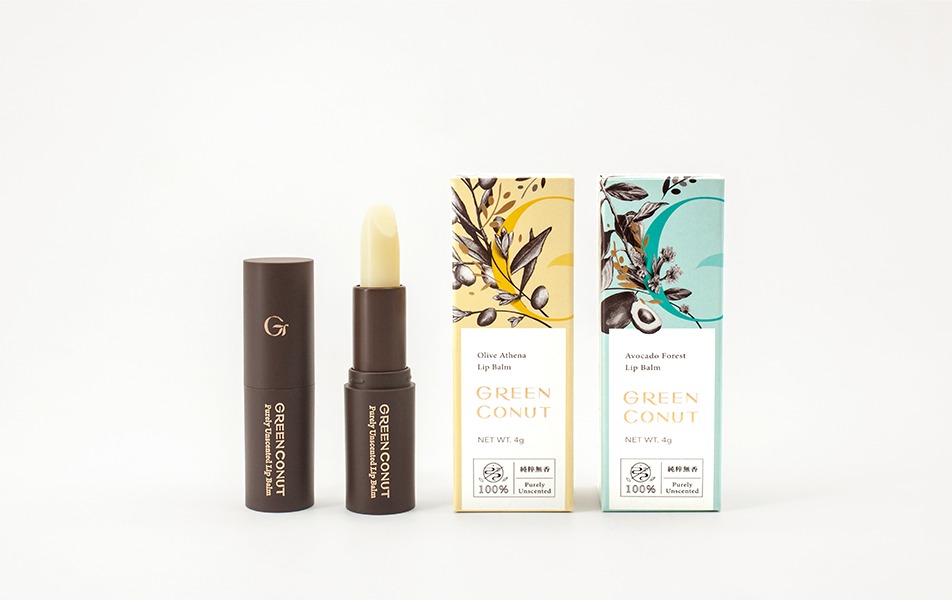 Lip Balm
Your lips are sensitive and fragile! Because they have no outer keratin, sebaceous glands or sweat glands, lips easily get dry, or get cracked, or peel. Our lip balms include nourishing vegetable oils. To avoid lip sensitivity, no essential oils or fragrances are added. The texture is neither heavy nor clingy. After application, the lip balms are absorbed instantly, and effectively nourish, hydrate, and moisturize your lips.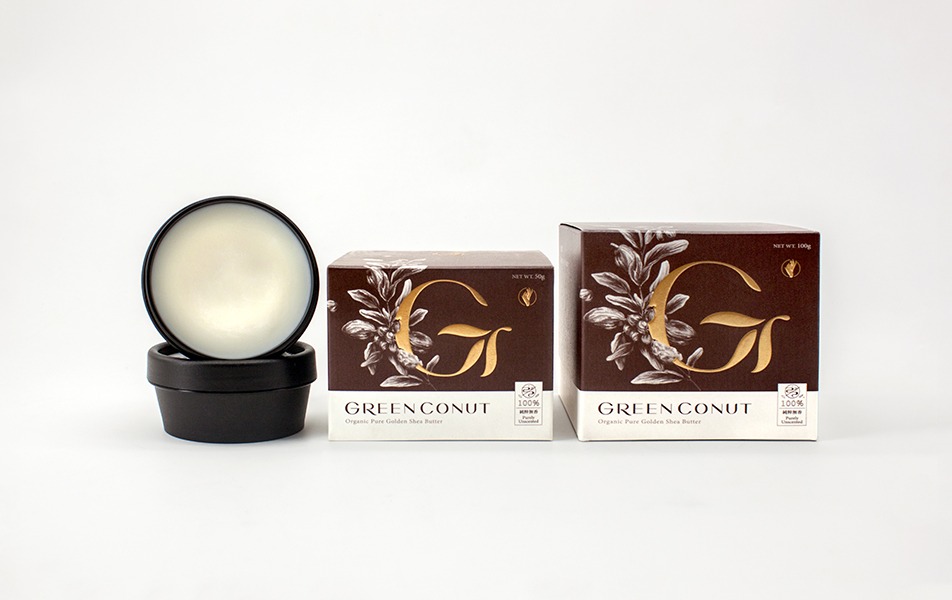 Golden Shea Butter
This lotion contains shea butter. The ivory-colored, shea butter gives great coverage. The lotion is also light and refreshing, and quickly absorbs into the skin to provide long-lasting, deep moisture. To keep shea butter's full, excellent moisturizing effects, the formula is undiluted with water. We also avoid adding essential oils or fragrance ingredients, to make it mild and skin-friendly.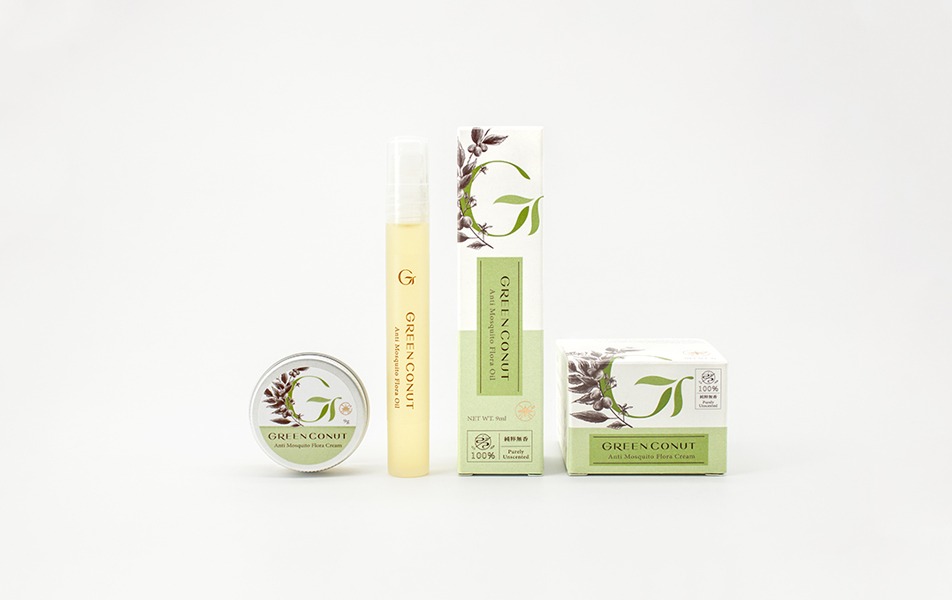 Anti Mosquito
We selected Indian neem trees as the source of ingredients for our mosquito repellent. Mosquitoes tend to avoid neem trees because they do not like the trees' unique scent. The pressed neem oil helps mask the body's carbon dioxide, and this keeps mosquitoes away. The oil has a scent reminiscent of peanuts and spices. The formula combines the scent of neem with mild, highly skin-friendly vegetable oil; it is refreshing and easily absorbed into the skin.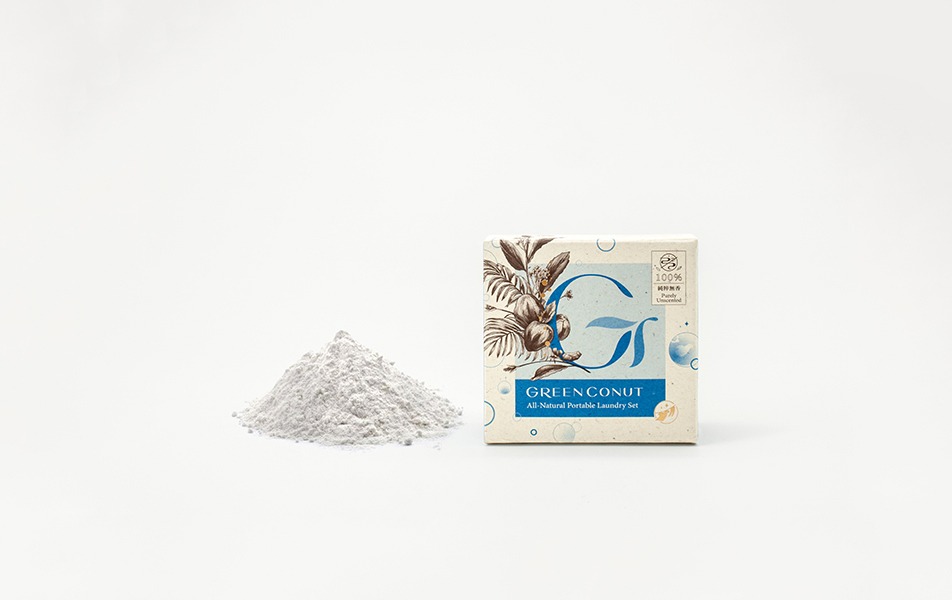 Oxygen Wash
We use eco-friendly and effective cleaning ingredients. During the cleaning process, suds are minimized, which helps increase friction and make clothes whiter. The products are low-waste and leave no residues, meaning there is zero skin irritation. The wastewater generated is non-polluting in the ocean, thus creating a virtuous cycle.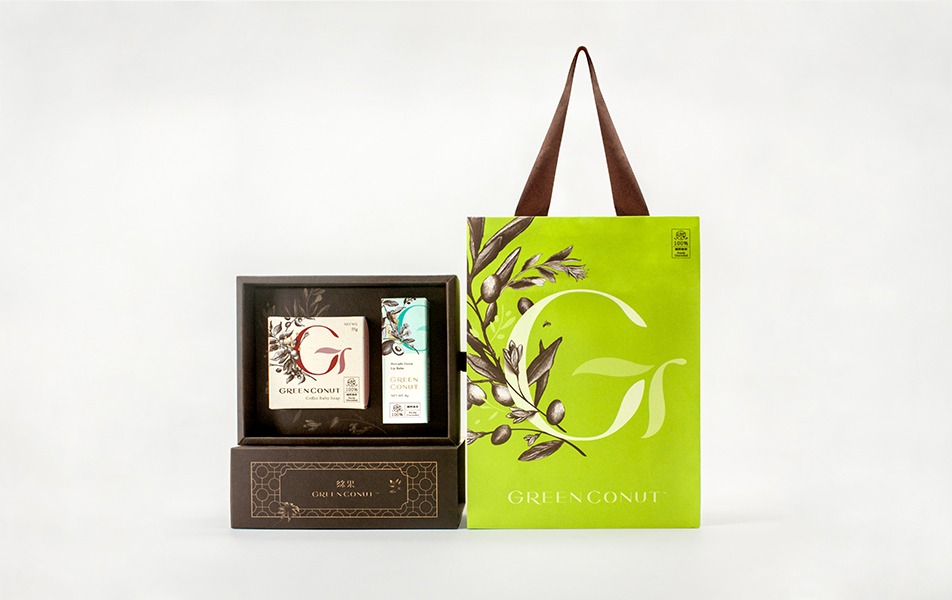 Presents / Gifts
Our products suitable for general skin types. We also know that you want to share GreenConut's products with people who are important to you, so we provide a variety of combinations. The gift boxes come in two different styles. One is the GreenConut design gift box, representing the spirit of GreenConut and the boundless energy contained in plants. The second is Taiwan gift box. GreenConut is a brand from Taiwan, so we present the important attractions of Taiwan on the outer box, and embellish it with traditional sky lanterns, so that your gift sends your good wishes along with it.
International Design Award
With energy from nature, our products are fragrance-free and have a mild feel. On the outside, our packaging showcase the plants' rich energy. On the inside, our products tell the history of the ingredients. Both the visuals and the products themselves convey mild, long-lasting enjoyment.
In January 2019, we learned that our products had won the German iF Design Award. In March, our co-founders attended the iF Design Award Night in Munich. Then again in May, we were granted the A'Design Award in the Packaging Design Competition Category, making GreenConut the award-winning Taiwanese brand for unscented products.
From concept to visuals, GreenConut embodies aesthetics in the details. This won the favor of specialist judges from overseas, which shows that daily skincare routines can be done with high-quality taste.